With an infectious blend of interweaving vocal melodies, soaring harmonies, and unconventional guitar rhythms, Athens, Ohio-based singer-songwriter Tony Xenos's brand of folk rock is in turns playful and introspective, energetic and intimate.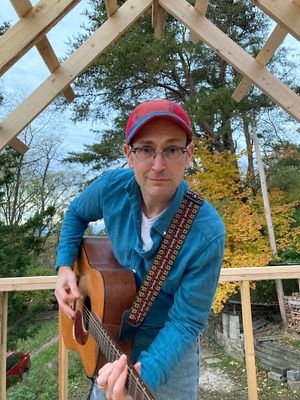 Tony has been making music for more than 30 years, channeling an early love for 60's folk music, 70's rock music, and groundbreaking bands such as R.E.M. into an eclectic array of projects and over a half dozen albums. In addition to his solo work, Tony fronted the beloved college alt-rock band Cactus Pears, and the interactive, family-friendly band Flyaway Saturn, the latter appearing at the celebrated Nelsonville Music Festival in 2009, 2010, and 2011.
Tony recently completed his fourth studio album, Music Heuristic. Working with long-time friends and collaborators, Rob Powell, Mary Lee Xenos, and Bryan Gibson, he's proud to have crafted a collection of songs that infuses sophisticated soul-searching into a lush sonic landscape. Perhaps best described by its own lyrics, this latest album is an exploration in "making meaning with melody; finding hope in harmony." Music Heuristic was released in December 2021 and is available for purchase here.
       (Photo courtesy of Kent Butler)